Community Health Worker (CHW 9-week) Training
Community Health Worker menu ↓
North Country Health Consortium offers a 9-week training series for participants to gain the skills and core competencies needed to work as a Community Health Worker (CHW)-- or in a role under the umbrella of Community Health, e.g.
Patient Navigator, Health Assister, Recovery Coach, Outreach Worker, Home Visitor, Patient Advisor, Patient Advocate.
Through combined virtual interactive classroom and independent off-line study, with self-paced homework.
Course Topics include:
Effective communication
Care coordination
CHW role, scope, and ethics
Motivational Interviewing (MI)
Setting boundaries
Equity and advocacy
Client-centered practice
Social Determinants of Health
Participants can learn new skills or increase their work-related knowledge!
CHW Training is now in session!
The current CHW training will run from September 7 - November 2nd, meeting on Thursdays from 9 am - 3:30 pm via Zoom.
Scholarships available for CHW training to all eligible participants
Full scholarships are currently available for all participants who reside in NH or serve NH community members. Serious applicants only, as scholarship spots may be limited; please only register if you can fulfill the full time requirements for this 9-week course.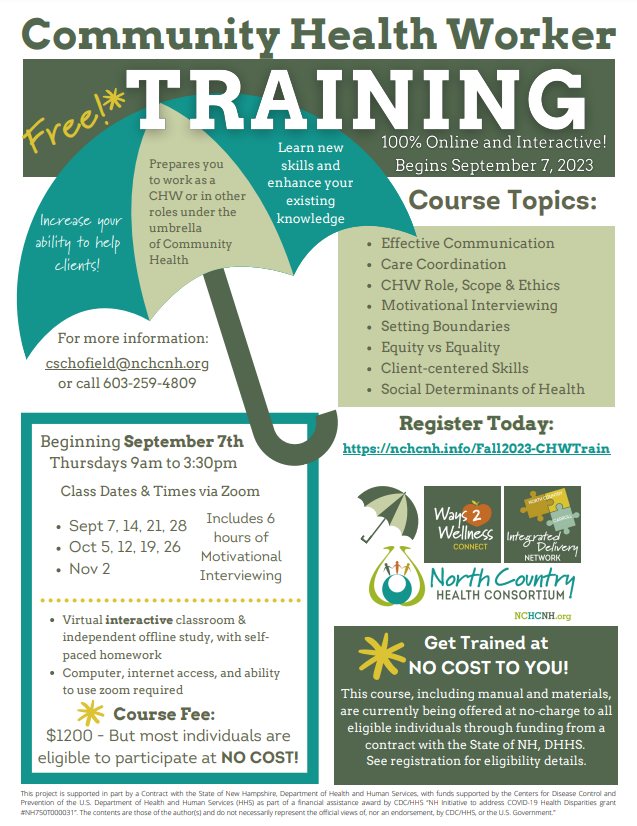 Contact
Questions? Contact Carolyn Schofield: cschofield@NCHCNH.org